Department Chair
Prof. Desislava Boshnakova, Ph.D.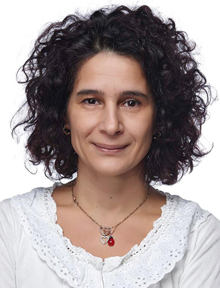 Prof. Desislava Boshnakova has been a lecturer in PR at New Bulgarian University since 1998. She also completed a second master's degree in theater directing at NBU. She was among the first students to graduate from the Department of Mass Communications. She is a blogger, podcaster, avid TED fan, curator of TEDxNBU 2011-2016, curator of TEDxSofia since 2017 and a speaker at TEDxAUBG 2016 and TEDxTarnow 2018. She is the author of PR-overbs, 13 Stories of W, and Collective Wisdom: Crowdsourcing, and co-author of The 21st Century Meeting and Event Technologies: Powerful Tools for Better Planning, Marketing, and Evaluation.

She has been actively involved in the Bulgarian PR community and is currently an Honorary Member of the Bulgarian Public Relations Association. She has been the Project leader for development of a Code of Ethics for the PR profession, leader of the Bulgarian team for the development of the ISO 20121 global standard for sustainable events and speaker at a number of conferences in the field of communications. She is a translator and publisher of specialized literature in the field of communications.

Contact information:
Building 2, Room 710
tel.: 02/8110 697
e-mail: dboshnakova@nbu.bg